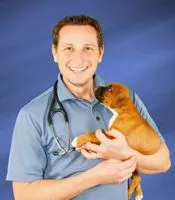 Dr. Adam Wright, DVM
Dr. Wright received his B.S. from California State Polytechnic University- Pomona and his D.V.M. from Ross University, located in the wonderful Leeward Islands (St. Kitts). After spending three years at Ross University to fulfill his veterinary degree, he then went on to spend a clinical year at the University of Missouri. Upon his return to Southern California, Dr. Wright worked at County Line Animal Hospital for 2 years.
Dr. Wright lives in Chino Hills with his wife Robyn, their 2 children, and their 6 pets - two boxers (Brinley and Ziggy), a mixed breed rescue (Marley), one corgi (Brick).
Dr. Wright enjoys the outdoor world whether that is going 4 wheeling in the desert, dirt bike riding in the sand dunes, or racing one of his cars at the track.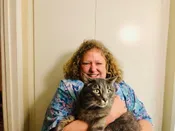 Dr. Rebecca Johnson, DVM
Welcome Dr. Johnson! We are very excited to welcome a new addition to our family! Dr Rebecca Johnson has been around animals since a child. Her mother was a neighborhood animal rescuer with most wild babies.
In high school, she took a dog grooming course through a co-op program and then continued her interest in a career with animals. She attended Michigan State University and obtained a Bachelor of Science degrees in Microbiology in 1983. She later got her Doctor of Veterinary Medicine from Michigan State in 1989. Go Green! She also finished a Master of Public Health degree in Epidemiology from University of Michigan in 1991. Go Blue!
Various jobs she had during and between schooling were dog grooming at family owned pet shop, courier for bovine adrenal glands for U of M human research project, working on a raspberry farm, an internship with the Centers for Disease Control in Atlanta and an externship with the Miami Seaquarium and Museum of Natural History nature Center in Miami. Since graduating Veterinary school, she has worked in Michigan, San Diego, San Francisco, and Los Angeles area. She lives in Pomona with her cat and 2 snakes. She enjoys singing karaoke and swimming.
Dr. Sheena Opstad, DVM
Dr. Opstad has been around animals her entire life. She has fostered countless cats, and some may say she is addicted to all things cat! She was a veterinary technician here for 3 years before going to Western and is back to start her veterinary career!

She lives in Riverside with her 3 cats, Dust, Fidget, and Reeses. As well as her two dogs, Jack and Peppah!